[Editor's note: if anyone has any pictures of this launch that they would be willing to have posted here, please email the editor at clubjuggler at gmail dot com. Thanks much.]
We kicked off the 2012-2013 rocket season at Bayboro on the weekend of September 22-23 with great weather and favorable winds, at least on Saturday.? The corn had been harvested from almost all of the fields east of New Ditch Road, but not yet mowed, chopped, and plowed under, so walking was very tiring.? The soybeans to the west of the road have not even begun to turn yellow, so they will be there when we come back for the weekend of October 13-14.? I?ll have more to say about the soybeans when I get to the discussion of Sunday.? On Saturday, the wind was out of the west and southwest, so the rockets were drifting out over open land.
Lets look at the motor use summary to get a notion of how many people showed up on Saturday.
| | | | |
| --- | --- | --- | --- |
| | Sat | Sun | Total |
| ? A | 20 | | 20 |
| A | 17 | | 17 |
| B | 15 | | 15 |
| C | 19 | | 19 |
| D | 10 | 1 | 11 |
| E | 4 | 2 | 6 |
| F | 5 | 1 | 6 |
| G | 6 | | 6 |
| H | 3 | 1 | 4 |
| I | 11 | 3 | 14 |
| J | 4 | 3 | 7 |
| K | 1 | 1 | 2 |
| L | 1 | 1 | 2 |
| M | 2 | | 2 |
| Total | 118 | 13 | 131 |
Attendance was great on Saturday, mostly thanks to two Boy Scout troops [350 and 451, if I recall correctly] who were going non-stop all day long.? I had to shoo them away from the LCO table shortly before sundown on Saturday.? I think everybody had a good time.
On the other hand, there were two flyers from Virginia who did not have a very good Saturday:? Jeff Goldstein and Nick de Brita both flew big rockets on M motors, and as of this writing neither of these rockets have been recovered.? Nick?s rocket, an Ultimate Wildman, was flown on a prodigious M1939W by Aerotech, and Jeff?s was an Extreme Wildman, flown on a M1297W.?? Both of these rockets made fantastic flights but came down a long way away.? Nick?s wildman must have put out the main at apogee, because it came down on the other side of the tree line directly east of the launch location, and was picked up by the farmer that owns the land over there.? Clifton Paul is working on him, and this one will probably come home.? Balky leads, relay boxes, and perhaps funky ignitor problems delayed Jeff?s flight for many cycles and it was later in the afternoon before it finally left the pad.? Jeff had a tracker on the bird and was working the field extensively, but had not brought it home by sundown on the 22nd.? Most of the big rockets that are lost in this wide open farm land are usually found by the farmer eventually and find there way to Clifton?s office out on highway 306, so don?t give up hope if you lose something.
Joe Zawodny brought out one of the finest upscale projects I have ever seen for its maiden flight on Saturday.? The rocket was called Behemoth Bertha, was 78? long and 5.5? in diameter, weighed about 8 lbs and flew on a CTI J295 Classic motor, making an almost perfect flight.? The finish and detail were just exquisite!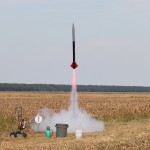 There were two certification flights on Saturday and I think they were both successful.? I say ?I think? because I didn?t have time to run the flyers down after the flight and get the final story.? It was one of those days ? I was trying to do 2 things at once and carry on 2 conversations at the same time almost all day long.? Anyway, the flights were made by Jake Boyd, who attempted a NAR level 2 cert flight with his Skyline on a CTI J410 Red, and Eva Zawodny, who made a great flight with her Formula 75, a very stout fiberglass kit from the Rocketry Warehouse, which she flew on a CTI I216 Classic.? I think both rockets were recovered successfully, but things got a little hectic and neither I nor the LCO heard the final reports on those flights.? Congratulations to both of you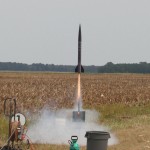 We got to see three flights using CTI motors with what is rapidly becoming my favorite commercially manufactured propellant:? Cesaroni V-max.? Pat Harden flew his brand new Wonderful Wild Women and Tanner Lovelace flew his well-travelled Escape Velocity on I566 motors and on Sunday Andrew Billin flew his SLS Skyhook on an E75.? All three flights were so very loud and fast that I just wanted to laugh out loud.? Delightful propellant!!!
We had a couple of scary moments on Saturday.? Bill Winiewicz was making his first visit to Bayboro and was attempting a flight of his Hog Nose on an Aerotech I285R but the forward bulkhead either blew out or punched through above the delay grain, and there was a lot of red flame out of both ends.? Not only did the rocket burn up but a couple of the leads from the relay box got charred.? Then, a few minutes later, Tanner Lovelace flew his beautiful little Semroc? Hydra 7 on a cluster of 7 (!) C6?s.? For this particular motor arrangement, the rocket will fly stably with as little as 3 motors working, but the central C6 has to light for the parachute deployment? to happen on schedule.? This is what did not happen [editor's note: actually, the center engine did light but the parachutes were packed too tightly for the single ejection charge to pop them out], and the rocket bored in with a sharp pop about 8 feet from where I was sitting with about 4 or 5 boy scouts.? This little rocket doesn?t weigh hardly anything and the nose cone is balsa wood, so a person could probably take a dead center hit on the top of the head with no permanent damage, but I bet it would scare the wadding out of you!
That brings me to my nominations for the best rocket name of the weekend award, and this month that distinction is shared between the previously mentioned Hog Nose, flown (or almost flown) by Bill Winiewicz, and Ugly Baby, flown by Simon Briggs.
Sunday morning was a little windier than Saturday, but the sky was clear blue.? The wind direction, which worked in our favor all Saturday, was not particularly helpful on Sunday, when it had shifted around to the north-northeast and blowing rockets into the soybeans.? For those of you who have never had the pleasure, soybeans are not particularly fun to recover rockets from.? If you have installed a radio tracker, and know exactly where your rocket is, you must walk through some very dense vegetation to recover it.? Your choices are to keep your feet near the ground and drive your legs forward through branches and vines and grabbing stalks, or to high-step every step you make, bringing your feet 3 feet up before putting them down in the vegetation.? Either approach is just plain exhausting.? Almost everybody who flew on Sunday had some experience with the soybeans.
Ray Bryant was applying some of the information he learned at the Carolina Sugar Workshop back in May, and flew his Copper Load on a potassium nitrate/sorbitol 54mm motor and his Sugar Patriot on a small 75mm sugar load.? Both flights would have benefited with a little higher Kn, but they rose slowly off the pads and made perfect recoveries.? Jim Livingston brought out a rocket that had not flown since the Whitakers days, his Black Brant, and flew it on a 38 mm I400.
Alan Whitmore destroyed a rocket that has made 47 flights since March of 2004, the Generic Four Inch.? ?This flight was carrying a 54mm L motor made from homemade propellant in a Kosdon 54/2550 case.? Late in the burn, when it was trucking along at almost 1000 f/s, the casing melted through and tore the rear end apart, shredding the parachute and doing a lot of other damage.
Other Sunday flyers were Warren and Vivienne English, and Andrew Billin.? Many thanks to Warren, Andrew and Jim for helping collect the equipment and pack the trailer.? We will gather again on the weekend of October 13-14 for fall WELD, an event that has traditionally featured the worst weather of the year, and again on October 27-28 for the 2-day Sport Launch, where we will enjoy the best weather of the year.
Alan Whitmore, Prefect, Tripoli East NC