CoVid Precautions:
Now that there is ample access to the COVID-19 vaccine, I think we can ease up a little on the restrictions I had in place at the end of last season. We clearly still have a long way to go in order to beat this virus, so let's continue to keep EVERYONE'S health in mind. I'd still like everyone to wear a mask when talking to someone, or within 6 feet of any person. I will continue to monitor the numbers as far as active cases in North Carolina, and will adjust restrictions accordingly.? But, as far as all the other restrictions, I think we can go back to a somewhat normal set up out at the field
Joseph Hill
Between September and April, we fly model and high-power rockets at arguably the best rocket launch field on the east coast. We have over 3,800 acres of unobstructed recovery area, and a 17,500 ft FAA waiver.
The launch site is near Bayboro, NC (it's actually in Grantsboro, NC) and is owned by John and Hoyt Paul and farmed by Clifton Paul. They all live very close to the field and we will probably see them at a launch soon.
Lots of fast food is available within 3 miles of the launch site for lunch.
A porta-pottie is available on-site.
Spectators are always welcome.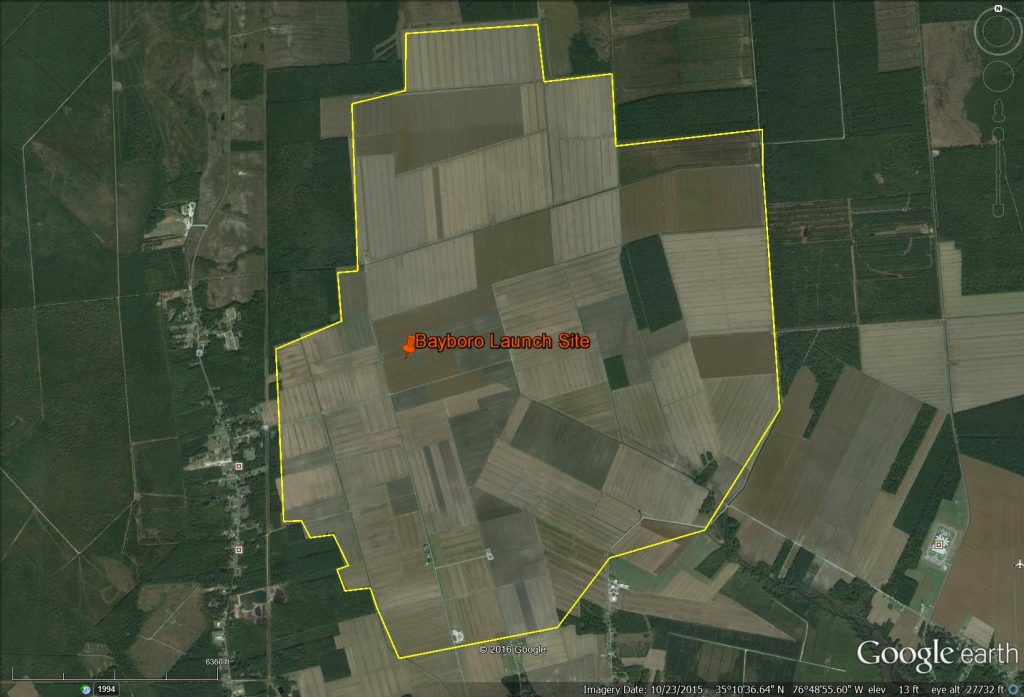 Directions to the Bayboro Field
To get there, drive to New Bern, NC and cross the Neuse River on US17 North/NC55 East.? Approximately one mile after crossing the Neuse River, turn right on NC55 East. Drive 7.5 miles to the crossroads of Grantsboro (NC 55 / NC 306) and turn left onto NC 306?? there is a Bojangle's on the left corner just before NC 306. Head north on NC306 for 1.9 miles and turn right on Paul?s Farm Road.? Continue about 1 mile into the open field area and look for signs and the club trailer.
If you are coming from northeastern NC, Greenville or Little Washington, you will probably come down US17 and turn left on NC 55 East at Bridgeton.
For those of you traveling via the wonders of GPS, aim your vehicle at coordinates 35.172075 N, -76.831813 W.
Launch Equipment
We supply launch equipment, usually a bank of model rocket pads and various rod and rail launchers for high power.
We have 1/8″, 3/16″ 1/4″ and larger rods. We also have a couple of?8 ft?1010 rails (1″x1″) , a 1515 rail, a smaller 20mm rail, and a large Unistrut pad.? Get rail buttons from Railbuttons.com, ask for the 1515, 1010 and mini size.
We strongly recommend using the rails for larger rockets.
Rocket Limitations
Launches at the Bayboro field are covered by an FAA Waiver to 17,500 ft.
Maximum altitude is 17,500 ft for commercial motors, and 14,000 ft for research motors.
Rockets are limited to FAA Class 2 (O motors and below) unless you have followed Class 3 procedures.
Launch Fees
Adult fliers pay $20/day or $30/weekend to launch, children fly free. We use this revenue to maintain our launch equipment and to pay rent to the landowner.
Recovery Field Access
We had a few people drive in areas of the field that resulted in us losing the privilege of driving on the field. We? were asked nicely by one of the farmers to NOT allow ANY vehicles on the field moving forward. We owe a great respect to the landowners and farmers who are gracious enough to let us all over their land.? We'd like to maintain a great/positive relationship with them and this is what's been asked of us. If you decide to drive on the field, you'll kindly be asked to leave the launch site and not come back. This is a ZERO tolerance rule.
Recover your rockets on foot!
Launch Safety
We follow the Tripoli Research Safety Code and the NAR Model Rocket Safety Code for launches at Bayboro.
Safety is our primary goal. To that end…
No smoking at the field.
Stay aware. Watch all flights. Be prepared to move out of the way of falling rockets.
If the Launch Control Officer (LCO) calls for a ?Heads Up? flight, stand up and watch the flight.
If you hear an air horn, or ?Heads Up?, look up and watch for falling parts.
DO NOT attempt to catch falling rockets or parts.
Stay behind the LCO during all flights.
Do not approach the launch pads unless the LCO indicates it is safe to do so.
Fliers: Follow the Model and High Power Rocket Safety Codes. The Range Safety Officer (RSO) has a copy.
Launch Procedure
Register at the RSO table before your first flight.
Prep your rocket for flight. We prefer that igniters be installed at the LCO table or at the pad. Any recovery electronics should be disarmed until at the pad.
Fill out a flight card for each flight.
Bring the card and rocket to the Range Safety Officer (RSO) for a safety check.
Bring the rocket to the Launch Control Officer (LCO) who will tell you when it is safe to load your rocket on the launch pad and which pad to use.
Do not approach the launch area to recover your rocket until all rockets have been launched.
Weather information and forecasts for the Bayboro Launch Field