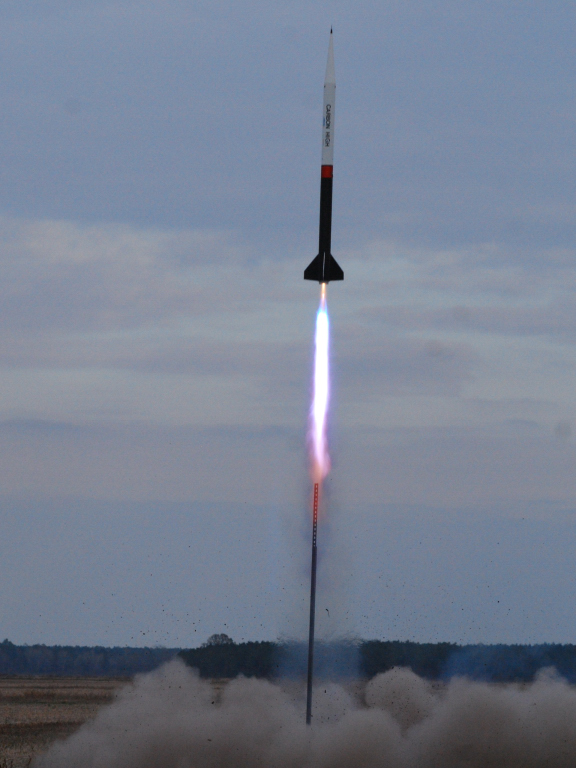 Officially, we are Tripoli Rocketry Association Prefecture #65, also known as Tripoli East NC. We welcome all amateur rocket enthusiasts, children and adults, flying motors of all sizes from 1/4A through O. We have several level 2 and level 3 certified members of both the Tripoli Rocketry Association and the National Association of Rocketry on site at most launches, and we can assist in certification flights for high-power rocketry enthusiasts who are members of either national organization.
Our launch site is on the Paul farm in rural Pamlico County, near the town of Bayboro, in eastern North Carolina. There, we have 3,800 acres with no trees, no power lines, and one 2-lane public road. We have an FAA waiver to use 17,500 feet of airspace. There is no finer rocketry venue on the east coast. We hold monthly launches at Bayboro from September through April.
Spectators are welcome at all of our launch events.
When we're not flying, the ncrockets e-mail list is available to get the latest news, ask for help, or share our rocketry successes with each other.
Other helpful links:
NC Rockets Walston Transmitter Frequency Assignments
Links to Rocketry Resources, Vendors and FAQs
Kurt Hesse is the current prefect of Tripoli East North Carolina. He can administer Tripoli L1 and L2 certifications.
Dave Morey is currently managing this website and the e-mail list.
Alan Whitmore is a member of the Tripoli Technical Advisory Panel (TAP) and NAR Level 3 Certification Committee (L3CC). He can administer L3 certifications.
Jim Livingston is a member of the Tripoli Technical Advisory Panel. He can administer Tripoli L3 certifications.